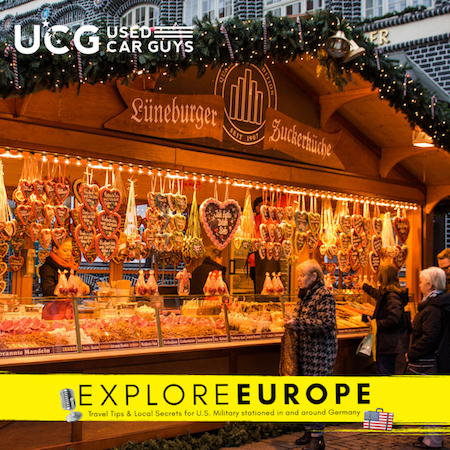 Explore Europe Christmas Markets Podcast Episode Show Notes
Here are the show notes for this episode of Explore Europe brought to you by Used Car Guys.
Is there anything better than living in Europe and especially Germany at this time of year. Nothing says Christmas quite like the traditional Weihnachtsmarkt that you will find in every big city, small town and even the tiny villages.
We've recommended our favourite Christmas markets throughout this episode, but I'll bet once you have visited a few, you will have your own. Everyone is unique and each one is worth a visit.
Here are the links from our Explore Europe Christmas Markets episode:
Kaiserslautern Christmas Market
The Rhein Galerie Ludwigshafen
Traben-Trarbach Christmas Market
Podcast Conversation Timeline
00:01 - Welcome to the Christmas Markets episode of Explore Europe
01:14 - John's tells us about his local Christmas Market - Kaiserslautern
2:00 - Where is the Kaiserslautern market?
2:35 - Try the highly recommended drink of the markets - Feuerzangenbowle
3:43 - Michelle delves into not one, but THREE Christmas Markets in her local area of Mannheim
4:34 - John and Michelle are amused with the items that are on sale at the market. A little hint - it's not quintessentially Christmas
7:39 - Getting to Mannheim - Especially, where should you park?
09:01 - All the information about the beautiful Heidelberg Christmas market
10:01 - What's the best form of travel to get to Heidelberg?
11:22 - John divulges some great tips for smaller, local markets around other areas in Germany
12:35 - Trier Christmas Market - all the information you'll need for a successful visit
13:51 - Saarbrücken Christmas Market - including some great tips from John
15:09 - You won't believe the highlight of the Saarbrücken Market! Find out here…
15:57 - What currency should you take? Do they accept credit cards at the markets?
16:21 - Do they serve german or french food at Saarbrücken Christmas market?
17:02 - Michelle tells all about the best Christmas market she has visited - Strasbourg
18:38 - John has a fascinating fact about Strasbourg for your next pop quiz
19:01 - How do you get to Strasbourg Christmas market?
22:09 - If you're an adventurous explorer, Michelle explains how to visit an array of markets in one day.
25:39 -  Traben-Trarbach Christmas Market - Weather and dog friendly
27:49 - Deidesheim Christmas Market - lots of nooks and crannies in this part!
30:55 - John and Michelle's podcast challenge for you
31:18 - The practicalities of visiting the markets - Parking / Is it safe? / Cash vs card / Child-friendly?
33:39 - Michelle's Christmas Market round-up
34:20 - Sustainable Travel Tip with Jen Gale
Thanks for listening and we'll see you next time, Explorers.